Samsung Galaxy Z Flip 5: latest news, rumors and everything we know so far
The latest Samsung Galaxy Z Flip 5 leaks
– Could be announced on July 26 and ship on August 11
– Might have a much larger 3.4-inch cover screen
– Might support Samsung DeX so you can use it more like a PC
– Could have a new waterdrop hinge design so the two halves can lie flat against each other
– Might have a smaller 3,591mAh battery
– The price could be similar to the current model
Models in Samsung's Galaxy Z Flip range are the most popular foldable phones on the planet, and with good reason – they pair a folding form factor with decent specs and a relatively affordable price.
Hopefully, the Samsung Galaxy Z Flip 5 will continue that trend, and in this article, we've created a wish list of what we want from the device beyond that.
But that's not all. We've started hearing lots of rumors about what the Samsung Galaxy Z Flip 5 might offer, so you'll find those below, too, along with information on the phone's possible release date and price.
We'll be updating this article whenever we hear anything new about the Samsung Galaxy Z Flip 5, so check back regularly for the latest information. 
Cut to the chase
What is it? The next entry in Samsung's foldable Z Flip line
When is it out? Possibly being announced on July 26
How much will it cost? Likely around $999.99 / £999 / AU$1,499
Samsung Galaxy Z Flip 5 release date and price
Could be announced on July 26 and ship on August 11
The price might start at around $999 / £999 / AU$1,499, like last year
The most specific release date rumor so far states that the Samsung Galaxy Z Flip 5 will be announced on July 26, and ship on August 11.
That's in line with earlier leaks, one of which said the phone might land in July, while one from SamMobile said the last week of July.
It's worth noting though that this would be earlier than normal. Prior to these leaks our guess was August 9, 2023, because that's the second Wednesday of August, and Samsung launched the Galaxy Z Flip 4 and Galaxy Z Flip 3 on the second Wednesday in August of their respective release years. So we'd take these leaks with a pinch of salt.
Based on past form, there will probably then be a wait of around two weeks before it ships, so the claim above of August 11 makes sense if it is announced on July 26.
The price is harder to predict, but it's likely to cost a similar amount to the Samsung Galaxy Z Flip 4, which starts at $999.99 / £999 / AU$1,499. Indeed, one leaks puts the starting price at around $999.
Samsung Galaxy Z Flip 5 design and display
Might have a much larger 3.4-inch cover screen
A new waterdrop hinge design is rumored
Expect a 6.7-inch 120Hz foldable screen
Starting off with the color options, the latest rumor is that the Galaxy Z Flip 5 is going to be available in beige, gray, light green, light pink, blue, standard green, yellow and platinum – so pick your favorite.
One of the biggest changes for the Samsung Galaxy Z Flip 5 could be the size of its cover screen, as we've heard from one source that the Samsung Galaxy Z Flip 5 might have a 3.3 or 3.4-inch cover screen, with notable tipsters Ice Universe and Yogesh Brar pinning it down as 3.4 inches.
Ice Universe has since got even more specific, saying the cover screen will be a 3.4-inch one with a 720 x 748 resolution and 305 pixels per inch. It might also include new widgets, one of which you can see in the leaked render below, which shows it alongside a Galaxy Z Flip 4 for comparison.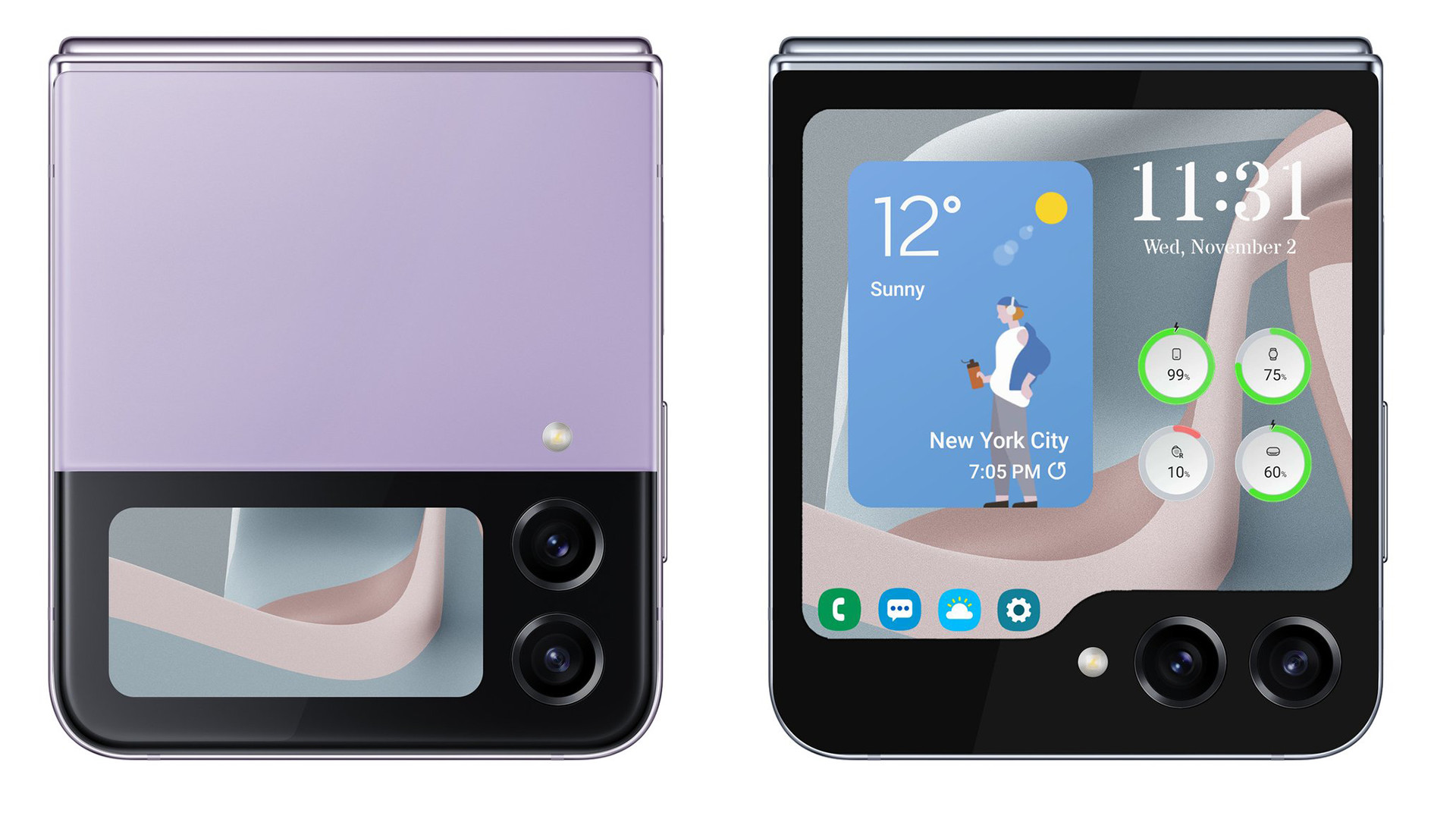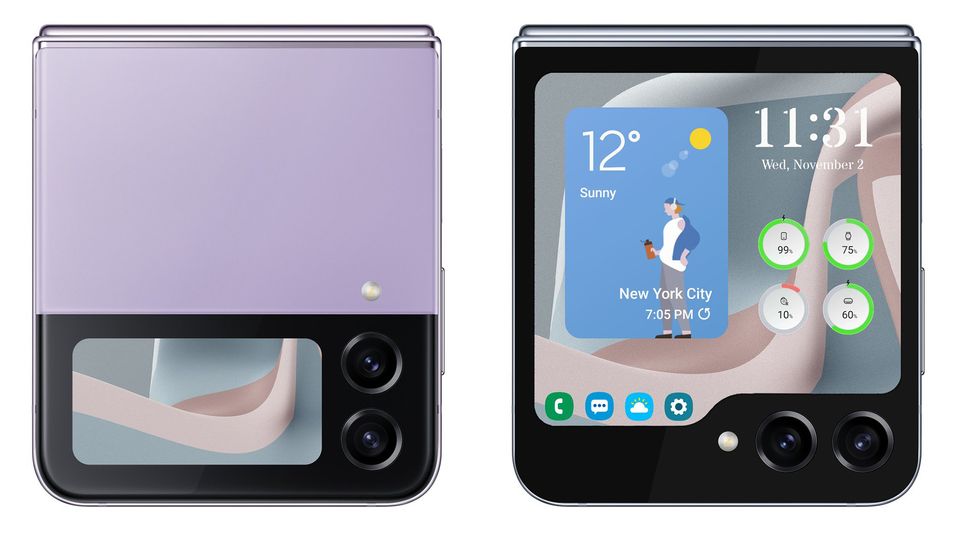 Whatever the screen size though, that's up from just 1.9 inches on the Galaxy Z Flip 4, so if any of these leaks are right it would be substantially larger.
Ice Universe also claims that Samsung is working on a unique L-shaped or folder-shaped cover display, with adaptations being made in the company's mobile OneUI software for it.
Confirmed!Galaxy Z Flip5 adopts a "folder" shaped external screen for 100% confirmation. Now adapting the software design. pic.twitter.com/89feYGmRjgApril 26, 2023
See more
A Twitter leak of the Motorola Razr 2023 showed a similarly large cover display that wrapped around the camera lenses. Following that, another Galaxy Z Flip 5 leaker confirmed that Samsung's design would be very similar, so Iit looks like the clamshell battle will take place on the cover this year. 
As for the foldable display, that's been mentioned in an extensive specs leak, which says this will be 6.7 inches (with a 120Hz refresh rate), and that it will be a brighter screen than the Z Flip 4's.
The same leak suggests that the Samsung Galaxy Z Flip 5 will use tough Gorilla Glass Victus 2, and that like the current model it will have water but not dust resistance.
We have also heard that the Samsung Galaxy Z Flip 5 will have a new hinge design that will allow the two halves to lie flat against each other. It's known as a waterdrop hinge, and a second rumor about this also says the phone will be IP68 rated for dust and water resistance – the dust resistance part of which is at odds with the leak above. 
Samsung's current foldables are IPX8 rated. This means they can handle water but not dust. An IP68 rating comes standard on many flagship smartphones, meaning they can handle both water and dust ingress. But as reports are conflicting on this currently we wouldn't count on seeing dust resistance here.
Indeed, a third report stated that Samsung was only considering dust resistance at this stage. Should the company get an IP68 certification on both the Flip and Fold phones, it could see a feature gap with classic slab smartphones closed. It would also widen the gap between that and rivals like Oppo even further.
An additional rumor notes the Flip 5 will apparently come in beige, gray, light green, and light pink.
Samsung Galaxy Z Flip 5 cameras and battery
Two 12MP cameras are likely just like last year
New and improved sensors could be used
The battery might be smaller at 3,591mAh
We've heard that the Samsung Galaxy Z Flip 5 could have a pair of 12MP cameras, with the second being an ultra-wide, just like the current model, but with new image sensors, so there might be some improvements there.
Beyond that, there's the vague claim that this phone will have a better camera system than the current model.
So it sounds like photo quality might be better this year, but the core camera setup will probably be similar.
As for the battery, that might come in at 3,591mAh according to certifications spotted by GalaxyClub. That would be marginally less than the 3,700mAh of the Samsung Galaxy Z Flip 4.
Samsung Galaxy Z Flip 5 specs and features
Likely to have a Snapdragon 8 Gen 2 chipset with 8GB of RAM
Storage could top out at 512GB
It might support Samsung DeX
One early Samsung Galaxy Z Flip 5 leak is a claim that it will use a Snapdragon 8 Gen 2 chipset (of the sort powering the phones in the Samsung's Galaxy S23 range). 
Given that the Galaxy Z Flip 4 uses the Snapdragon 8 Plus Gen 1, this always looked likely – though if there's a Plus version of the Gen 2 chipset on the horizon, then the Galaxy Z Flip 5 may end up packing that.
Furthermore, another report suggests the Flip 5 will be offered in 128GB, 256GB and 512GB storage variants, which are the same storage options Samsung opted for on the Z Flip 4. The 128GB variant reportedly won't benefit from UFS 4.0 speeds, though. Instead, being the cheapest option of the three, the baseline Flip 5 will stick with its predecessor's UFS 3.1 specification.
We've also heard that the Flip 5 could have 8GB of RAM, better speakers than the Flip 4, and an improved vibration motor.
Galaxy Z Flip5• 6.7 inch 120hz inner & 3.4 inch outer Amoled Displays • Brighter than the previous model • Snapdragon 8 Gen 2 for Galaxy • 8gb LPDDR5 ram + 256/512gb UFS 4.0 storage (128gb UFS 3.1)• Improved camera system • New hinge & smaller gap when closed… pic.twitter.com/XV2InErhO9April 25, 2023
See more
Finally, we've heard that the Galaxy Z Flip 5 might support DeX, which is Samsung's system for connecting a phone to an external screen and displaying a desktop-like interface. You can even then connect a keyboard and mouse, for a full PC experience.
Most premium Samsung phones already support this, but for whatever reason the Galaxy Z Flip line doesn't.
Samsung Galaxy Z Flip 5 what we want to see
The Samsung Galaxy Z Flip 4 wasn't much of an upgrade on the Galaxy Z Flip 3, so we want to see bigger improvements from the next model, including the following things.
1. A telephoto camera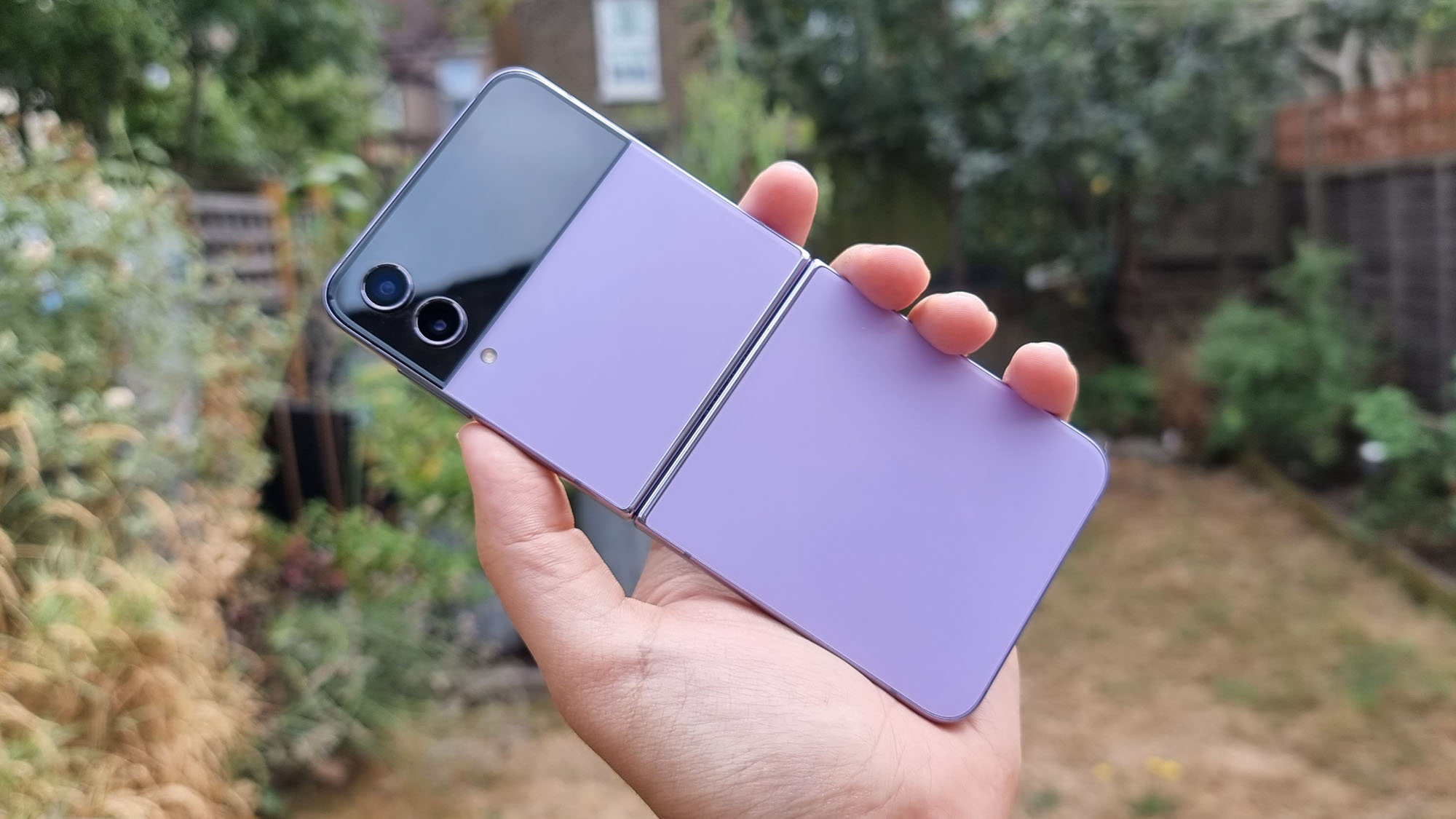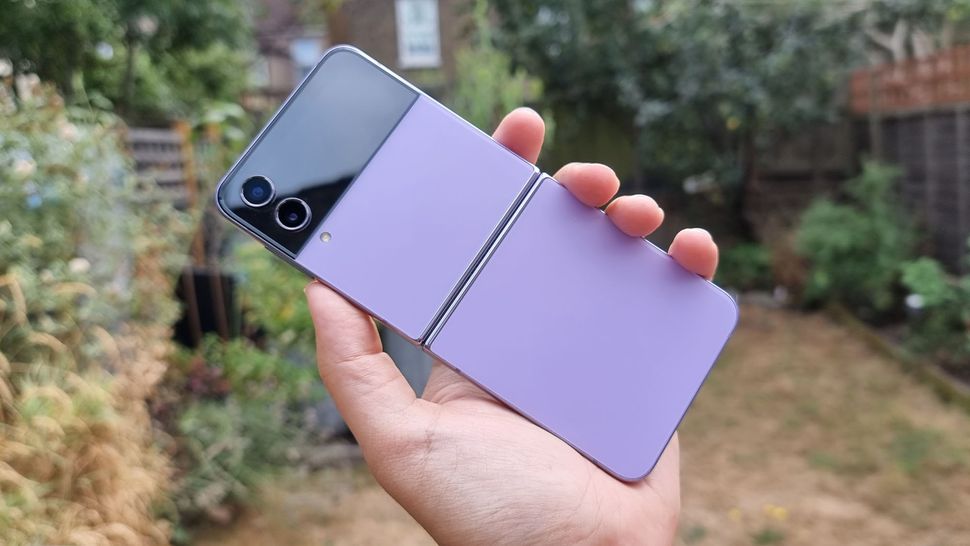 A telephoto lens is a standard feature across almost all high-end phones, yet it's a feature the Samsung Galaxy Z Flip 4 lacks.
In fact, the Z Flip 4 only has a dual-lens camera, comprised of a 12MP primary and 12MP ultra-wide snapper, so it's quite basic and lacking on the photography front. We want to see big upgrades here for the Samsung Galaxy Z Flip 5, with a telephoto lens added and ideally upgrades to the other cameras too.
2. Better battery life
Battery life is a problem for a lot of phones and even more so for foldables, as they tend to have smaller batteries than similarly-sized conventional handsets.
That's presumably because the folding mechanism takes up space that could otherwise be used by a battery, but it's a definite issue; often leading to sub-par longevity.
The Samsung Galaxy Z Flip 4, for example, only has a 3,700mAh battery, and in our review, we noted that its output was underwhelming, so we want to see a battery boost in the Galaxy Z Flip 5.
3. A lower price
The Samsung Galaxy Z Flip 4 is actually one of the more affordable foldable phones, but for the specs you get – folding screen aside – it's still fairly expensive, so we'd love to see Samsung push the price down a little further for the Samsung Galaxy Z Flip 5.
This probably won't happen – especially if there are significant upgrades to the specs – but it would make the device all the more appealing.
4. A bigger cover screen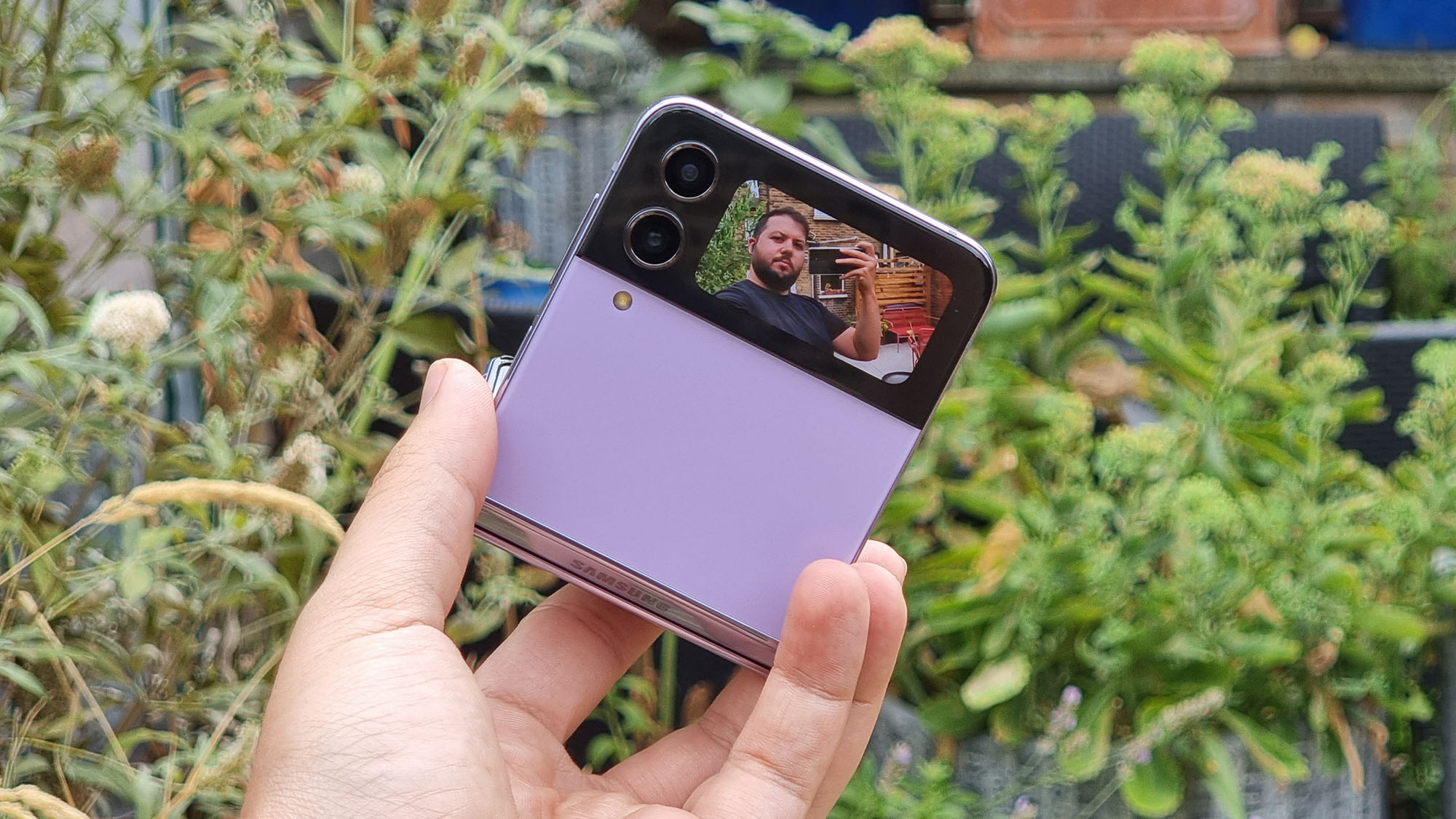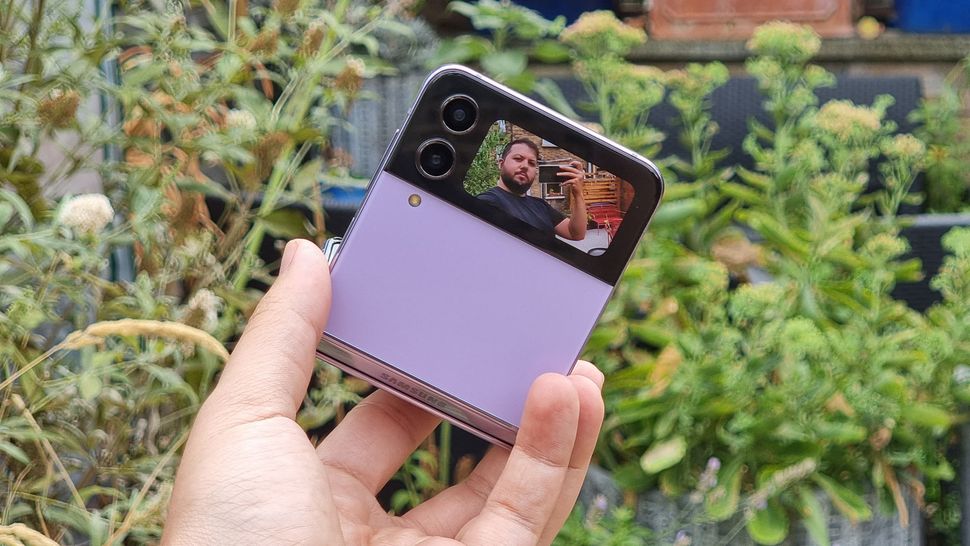 While the 6.7-inch foldable main screen on the Galaxy Z Flip 4 is a decent size, the 1.9-inch cover display – which is what you can see and interact with when the main screen is folded shut – is too small to do much with.
Sure, it can show notifications and the time, but it's too tiny to properly interact with, meaning that for most smartphone functions you have to flip the phone open. We'd like to see a bigger secondary screen on the next model, allowing you to keep the phone folded shut more often.
5. More substantial upgrades
We've detailed some of the upgrades we want above, but just in general we want the Samsung Galaxy Z Flip 5 to feel like a substantial improvement on the Galaxy Z Flip 4.
The last two models have been extremely similar to each other, so it's past time we saw some major updates – and we'll need to for this to have a good shot at ranking among the best foldable phones.